Stephan

Mrusek

,

M. Sc.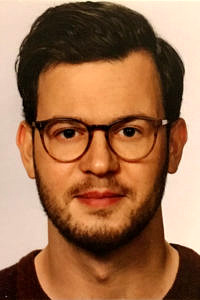 Organization:

Department of Chemical and Biological Engineering

Working group:

Chair of Chemical Engineering I (Reaction Engineering)

Phone number:

+49 9131 85-67435

Fax number:

+49 9131 85-27421

Email:

stephan.mrusek@fau.de

Website:

https://www.crt.tf.fau.de/
Address:


Egerlandstraße 3

91058 Erlangen

Room 0.113-8
Lebenslauf
Stephan Mrusek hat bis Dezember 2017 Energie- und Verfahrenstechnik an der TU Berlin studiert. Das Thema seiner Masterarbeit war die "Fluiddynamische Untersuchung einer hybriden Flotations-/Filtrationsanlage zur Wasseraufbereitung". Seit Januar 2018 ist er als wissenschaftlicher Mitarbeiter am Lehrstuhl für Chemische Reaktionstechnik tätig und beschäftigt sich im Rahmen seiner Promotion mit der Entwicklung eines elektrochemischen Wasserstoffkompressors für LOHC-Systeme.